WEIRDBEARDPRESS
Home / FAQ / Blog / Resources / Categories / Store
BANNED BOOKS
(all of them highly recommended by us)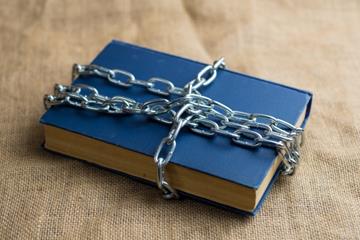 Most banned, censored, or restricted books are either placed off limits in or entirely removed from
religious institutions, school curricula, or school libraries.
They are less often restricted at bookstores and public libraries,
though in the past they might be banned or "indexed" there as well.
Some political and religious groups and private schools are known to burn books whose content they find offensive
or whose authors have incurred their disapproval, often because of their political affiliation.
Book bans and book censorship both thrive in an environment of cancel culture.
Books may be censored or banned by federal and local governments.
People who read, write, translate, or illustrate forbidden books
are subject to imprisonment in many parts of the world.
A few people are even executed for what can only be deemed thought-crime.
According to the American Library Association's Office for Intellectual Freedom (OIF),
the availability of books is "challenged" for the following reasons:
· 92.5% sexual content inappropriate for persons under 18
(typically including masturbation, sexual fantasies, and all GLBTQIA+ activities)
· 61.5% profane language, including off-color humor
· 49% persons under 18 carrying out adults-only activities
in narratives described as "unsuited to the intended age group"
· 26% real or implied criticism of mainstream religious tenets
· 23.5% GLBTQIA+ themes of almost any description,
except perhaps overpowering feelings of guilt and shame
· 19% violence, including suicide and premeditations of violent behavior
· 12.5% use of non-prescription drugs, including alcohol and tobacco,
along with the abuse of prescription drugs, including opioids:
also most drug culture and drug-induced states of mind
· 7% family dysfunctions, including child abuse and neglect
· 6.5% real or implied criticism of mainstream political viewpoints
Actor Bill Cosby's books Childhood, Fatherhood (a bestseller), and Time Flies have been banned because of their author's highly publicized (and egregious) sexual assault convictions, as has his extensive (and influential) work on TV, from I Spy to Fat Albert to The Cosby Show. Can the good deeds done by criminals, however rare they may be (and Cosby's positive contributions to popular culture are far from rare or trivial), be ignored, even if they in no way make up for the bad deeds? Should a criminal's work be censored or restricted if it had nothing to do with the crimes committed? It may not be easy to distinguish the crime from the criminal who committed it, particularly if sociopathic attitudes are expressed in the criminal's work. Few viewers see a misogynistic streak in The Cosby Show, for example, but some critics identify a sense of entitlement in the so-called "Pound Cake" speech he delivered in 2004, in which he criticized the state of parenting in the African American family:
"People getting shot in the back of the head over a piece of pound cake! And then we all run out and are outraged: 'The cops shouldn't have shot him.' What the hell was he doing with the pound cake in his hand? I wanted a piece of pound cake just as bad as anybody else, and I looked at it and I had no money. And something called parenting said, 'If you get caught with it you're going to embarrass your mother.' Not 'You're going to get your butt kicked.' No. 'You're going to embarrass your family.'"
Face it. A lot of authors – and artists in general – were (and no doubt still are in some cases, truth be told) scoundrels in their personal lives whom we are better off never having met. That doesn't make their work, which should perhaps be published with a caveat, any less valuable to humanity. Even if Bill Cosby's Pound Cake speech was misguided, the multitalented, if occasionally sociopathic, actor, author, and comedian nonetheless has (or at least had) much to teach the world. Many of us can teach by example how not to conduct our lives or relate to other people in spite of their erstwhile wholesome public personae.
Similarly, should the literary merits, however slim, of a novel like Ayn Rand's classic The Fountainhead (1943), which some see as a fine example of absurdist fiction, be ignored because the author later started what is essentially a personality cult largely based on her 1957 magnum opus Atlas Shrugged, a thousand-page tract expounding her (in our opinion) even more self-contradictory philosophy at mind-numbing length? Besides, although somewhat derivative, her Romantic Manifesto remains a valuable resource for writers of fiction and nonfiction.
Anne Frank: Diary of a Young Girl (1947 in Dutch, 1952 in English) is sometimes banned in Christian schools because its author was Jewish and Jews who don't convert to Christianity are considered hellbound unbelievers. A few schools have banned it because it narrates an unpleasant period in world history that many would prefer to forget. The book is most often banned because its author, then in her mid-teens, briefly describes undergoing puberty and having her first sexual feelings. The first edition was censored by its editor, the author's father, but still draws the occasional objection. A later, unexpurgated edition is slightly more explicit, but offers nothing out of the ordinary for a teenager learning about her own body and its drives, sexual and otherwise. Do parents really believe children don't experience such sentiments – urges, if you will – until they're eighteen – or that these should remain suppressed? How realistic are such expectations ultimately?
Artists of all descriptions have seen their work challenged because of their erstwhile political affiliations. Many struggling writers flirted with communism in the 1930s and 1940s, before the Soviet Union became the de facto archenemy of Western culture during the Cold War. Most paid for it during the stifling McCarthy Era in the United States (1947-58) with its "loyalty tests" and infamous House Un-American Activities Committee. George Orwell's Animal Farm (1945) and Nineteen Eighty-four (1949) have both been challenged because of its (British) author's supposed socialist leanings, which do inform both titles. Richard Wright's Black Boy (1946) embraces both communism and one of its best-known ideological ancestors, atheism - both taboo topics in America during the two decades after the end of World War II. All-American author Ernest Hemingway's For Whom the Bell Tolls (1940), a perennial bestseller, has been banned because of its alleged communist sympathies. Upton Sinclair's muckraking novel The Jungle, published in 1906, was criticized for being anticommunist and pro-socialist, it remains curiously relevant to this day.
The words communism and socialism are still dirty words in much of America, as inflammatory as shit or fuck to many people. It wasn't that long ago that curious readers had to travel to special left-wing bookstores, sometimes all the way to an anarchist bookstore in the heart of the ghetto, to find noncritical works on either subject. Readers might be asked why they were borrowing or (worse still) purchasing copies of Karl Marx's Capital (1867-94 in German, 1887-1981 in English). Instructors have been questioned over the years for assigning such subversive texts to high school and even college students. Jack London's Call of the Wild, as an example, is frequently challenged for its perceived socialist – some critics claim primitivist – outlook.
Children who bring their own reading material into private schools and their libraries – perhaps to cross-reference the books' literary sources – risk having the books confiscated by zealous school officials. Alfred Hitchcock's Let It All Bleed Out (1973), an anthology of completely tame mystery stories whose cover just happens to feature a painting of the famous film director giving Count Dracula a blood transfusion, was seized, held up for condemnation, and ultimately burned because an English teacher at such a school found it unsuitable for children. So much for not judging a book by its cover. Misunderstood humor often provides a basis for censorship.
We've identified 26 major reasons for book challenges, one for each letter of the alphabet.
MOST COMMONLY BANNED ADULT FICTION TITLES
with the reasons for each objection below
MOST COMMONLY BANNED YOUNG ADULT (YA) FICTION TITLES
with the reasons for each objection below
MOST COMMONLY BANNED CHILDREN'S FICTION TITLES
with the reasons for each objection below
MOST COMMONLY BANNED FILMS
WEIRDBEARDPRESS
Broken Link? errors@weirdbeardpress.com
Questions? info@weirdbeardpress.com
Submissions: subs@weirdbeardpress.com
All original material © 2015-2022 by Weird Beard Press.
Unauthorized reproduction prohibited.